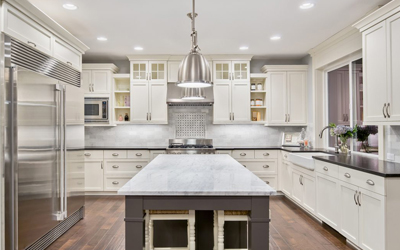 Kitchen trends just come and go over the years, which enable you to add more to make your kitchen look elegant. What you can change to make your kitchen look unique are countertops, cabinetry, plumbing fixtures, light fixtures, walls and floor.
Some styles last life long in kitchen trend and give an aesthetically pleasing appearance to your kitchen. Take a look:
Inset & Cutout Handles

Inset and cutout handles for cabinet and drawer pulls can give a unique look to your kitchen. Generally, the handles and knobs become loose over time and may make you difficult to open and close the drawers.

Countertops Combined With Cabinets

Dark stone countertops combined with dark cabinetry, can give your kitchen an attractive look. For example, a black marble countertop paired with dark blue cabinets can provide a moody look and will be noticed by anyone quickly.

Stone Counter, Shelving & Backsplash

Choosing stone for your counter, backsplash and shelves can deliver a seamless look that is also very chic. Except for the bathroom, the kitchen is another place where stone makes sense.

Vertical Backsplash Tiles

Consider installing tiles in a vertical orientation to bring visual impression to a greater height of the place, mainly when you use the backsplash in your kitchen. You can have them installed in a stacked or offset manner.

Walls Of Storage

Creating walls of storage play a functional role in cabinets that comprise a lot of visual square footage of your kitchen. It is necessary to make sure they are in color and material that adds compliment to your kitchen.
For more information, reach us at MCM Contracting. We have experienced team of kitchen renovators in Burlington who know how to design your kitchen to look luxurious, spacious and modern without hurting your budget.