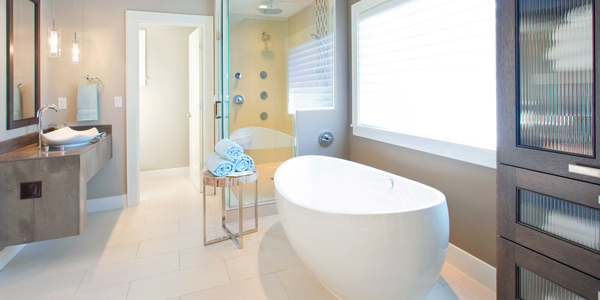 Want to freshen up after a tired day in a luxurious spa-like bathroom? If yes, your search for a reliable remodeling company ends here. At MCM Contracting, our bathroom renovators in Burlington are skilled in designing a modern styled bath space that will truly freshen up your senses and mood. No matter, you want a master bathroom or a traditional one, we know how to design them all. Using the best materials and innovative approach, our renovators create a space that will refine the beauty of your interiors.
Our Remodeling Expertise
Being a locally owned and operated bathroom remodeling company in Burlington, we are proudly serving the residents with an array of designing and renovation services. Right from installing new showers to custom cabinets and tiles, we offer a spectrum of bathroom remodeling services in Burlington, Oakville and Milton. With 30+ years of industry experience, our team is proficient in transforming dull and outdated bathrooms into amazing ones. We specialize at:
Shower installation and replacement
New slabs and countertop installation
Cabinet replacement & polishing
Bathroom vanities and mirrors
Flooring restoration & repair
Plumbing installation and fixtures
Creative Renovation Approach for Luxurious Bathrooms
If you are ready to transform the looks of your old bathroom, our licensed remodelers are right here for you. Our experience and professionalism allow us to deliver the best in everything we do. Whether your bathroom tiles are worn out or sink is outdated, we are always ready to take on your upcoming project. Just tell us your design ideas and we'll work on them to create a perfect bathroom within your budget. By choosing us, you can benefit from our:
Meticulous approach
Attention to detail
Competitive pricing
Hassle-free scheduling
Efficient project planning
Quality workmanship
Call To Request A Free Estimate Today!