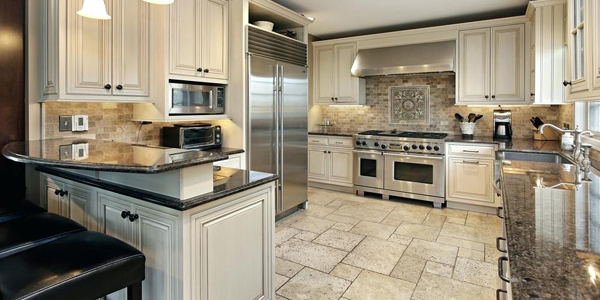 Whether you want to freshen up the outdated looks of your kitchen or need a complete makeover, MCM Contracting is right here to assist you. We are a leading renovation company in Burlington that is proudly serving the residents with top-notch kitchen remodeling and designing services at an affordable cost.
With over 30 years of industry experience, we know how to turn your old and dull kitchen into an amazing one furnished with modern countertops and cabinets. Our team is licensed and insured to handle any project size with utmost professionalism and dedication.
Our Expertise
Kitchen is the heart of your home, and our renovators work hard to bring the best out of your cooking space with an innovative kitchen renovation in Burlington, Milton and Oakville. Right from designing new layouts to installing new countertops and floors, we leave no stone unturned to bring your dream kitchen to life. Our service includes:
Modern Countertops
Cabinet Installation
New Backsplashes
Floor Polishing
Plumbing Repairs
Lighting Replacement
Luxurious Faucets
Kitchen Designing
Sink Installation
Refacing Cabinetry
Electrical Tune-up
Hardware Restoration
At MCM Contracting, we design custom kitchens. Whether you are looking for a contemporary, modern or a mid-century style, our kitchen remodelers in Burlington are expert in doing them all. After listening to your requirements, we create a blueprint design to provide a clear vision of your dream kitchen.
Why Choose Us?
For best-in-class and quality kitchen remodeling, look no forward than us. No matter what the scope of your project is or what's the budget, we promise an unparalleled service with attention to detail at every step of the way. Using durable materials and equipment, we aim to enhance your kitchen appeal with a focus on 100% customer satisfaction. Some reasons to choose us include:
Experienced Renovators
Locally Operated
Quick Response
Excellent Service
Professional Staff
Licensed Company
Free Estimates
Transparent Pricing
Discuss Your Kitchen Makeover Project Today!