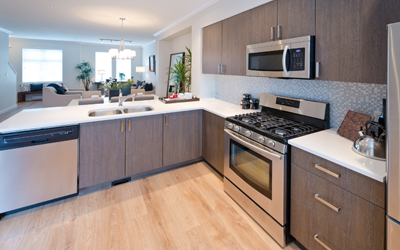 Undoubtedly, remodeling a kitchen is one of the most expensive projects as it includes the installation of cabinets, granite countertops and kitchen appliances. All this can hurt your budget, but you may surprise to know that even your small budget can add value to your kitchen.
If you are dreaming of remodeling your kitchen at a reasonable cost, use the tricks explained by experts.
Apply New PaintA new coat of paint is the smooth and simplest way to upgrade your kitchen. To make this task more interesting, you can use contrast colors creatively.
Embrace Laminate CountersIf your budget does not allow you for granite, marble or stone countertops then consider old laminate counters. You can also opt for mimic granite, marble and stone.
Implement Your CreativityYou can design something yourself on a wall to make it exciting and eye-catching. For example, find the images to paste on the wall.
Don't Think About The Brand New Every TimeNot every time you need to spend on brand new products, if you are lucky enough, you can find a wide variety of kitchen appliances in a sale or second hand.
Contact Renovation CompanyContact the leading renovation company that can provide you with cost-effective kitchen renovation services. Right from designing layout to high-quality kitchen countertop and floors, the professionals can turn your dull kitchen into a fully furnished place without hurting your budget.
At MCM Contracting, our team of insured and licensed kitchen remodelers in Burlington can listen to your requirements, create blueprint design and work hard to achieve 100% customer satisfaction at a budget-friendly cost.