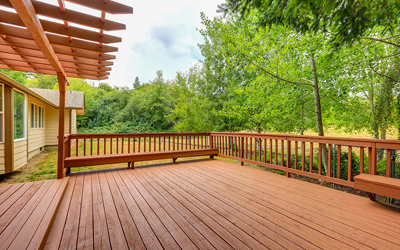 Decks are one of the attractive elements that make your property look luxurious and amazing. They are installed in the exteriors and are responsible for enhancing the living space and comfort of sitting in the yard. If you are planning to increase the overall value of a property, invest in a deck installation or renovation project. Some valid reasons to install a deck includes:
Your Own Private Paradise

No matter, it's summers or winters, one of the best getaways you can enjoy is soaking the sun and relaxing on a chair in your deck. Modern and well built decks are often called private paradises as they gave you the comfort you deserve that too in the open skies. Moreover, you won't have to drive to a nearby beach to take a sunbath when a deck installed at your home itself.

Increased Family Living Space

No matter, which style or type of deck you want to install, almost any design can wonderfully improve the appeal of your backyard. It is considered a beautiful extension that can be used in any way you want. From having a brunch with your little ones to reading a novel in natural light, deck renovation or installation is a practical addition to your home.

Enhances the Property Value

Whether you want to own a luxurious home or planning to improve the resale value of a property, a deck renovation project can do wonders. Since it is made of wood, extra care is needed to maintain its shape and beauty. Even minor upgrades can work if you don't want to burn a hole in your pocket. If selling your property at a higher value is your goal, decks can do wonders in achieving it.
So, these are a few reasons to install a deck in your property. If you are planning to get your deck renovated by the experts, MCM Contracting is your go-to choice.